Palm Springs Noir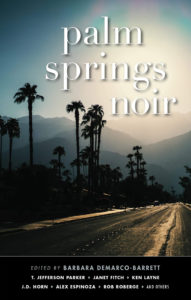 Reviews
Features/Interviews
Videos/Coverage
---
Pen on Fire:
A Busy Woman's Guide Guide To Igniting The Writer Within
Los Angeles Times bestseller and winner of the 2005 ASJA Outstanding Book Award
In her years of teaching, Barbara DeMarco-Barrett has found aspiring writers–especially women– blocked not by fear of the blank page but by the lack of time. We're sure we need an afternoon to do any real writing, yet finding even an hour free of work, children, or chores seems impossible.
But you don't need an hour. Start looking for just fifteen minutes a day–minutes spent stalled in traffic, waiting for water to boil, stuck on hold with the phone company–and DeMarco-Barrett will help you turn them into productive sessions that get and keep your creativity flowing. In short, inspiring chapters, she offers classroom-tested exercises and innovative techniques for generating ideas, as well as advice from well-known authors.
Give her fifteen minutes: She'll ignite your pen and help you become the writer you have always wanted to be.