Coolest American Stories 2022
Released January 12, 2022, with my story, "Blue Martini"
"Some of the characters who populate this collection can only save themselves by sacrificing others, as in Barbara DeMarco-Barrett's noir 'Blue Martini,' where a woman tries to escape her abusive meth-head boyfriend. The sensory details of Palm Springs and the surrounding desert are painted so precisely that you can feel your skin crackle with dryness."
– Washington Independent Review of Books
Palm Springs Noir
July 6, 2021, Akashic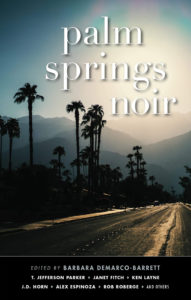 Now available at Skylight Books (Los Angeles), Book Carnival (Orange), Just Fabulous (Palm Springs),  Amazon, Bookshop, and wherever you buy books. If you listen to audiobooks, you can also find it on Scribd.
Palm Springs Desert Sun
---
Coachella Valley Independent
Palm Springs Noir honored for CV Independent's annual "Best of Coachella Valley" Staff Picks for 2021-2022
---
Reviewing the Evidence
Los Angeles Review of Books
Brightness, Darkness, and Everything In-Between
Kirkus Review of Palm Springs Noir
Palm Springs Noir received a pre-publication review from Kirkus.
---
Mystery Scene
Check out this review of Palm Springs Noir in Mystery Scene Magazine.
---
The OC Register's Bookish Summer Reader
A feature about Palm Springs Noir, courtesy of Southern California News Group.
---
Publisher's Weekly
Publisher's Weekly reviews Palm Springs Noir.
---
Los Angeles Times
Los Angeles Times reviews Palm Springs Noir.
---
CrimeReads
Sunny Palm Springs is a Perfect Setting for Noir.
---
New York Journal of Books
---
Beverly in Movieland
A Palm Springs Noir, My Sweet.
---
Authors Guild Member Spotlight on Barbara
The muse is so very busy these days….
---
Palm Springs Noir (video)
A visual collage with footage, readings, and snippets from contributors to Palm Springs Noir.
---
NBC Palm Springs (video)
Corey Roskin talking about Palm Springs Noir
---
LGBTSR
Featured book: Palm Springs Noir.
---
Coachella Valley Independent
Review and excerpt from Michael Craft's story
---
Stu News Newport
Palm Springs Noir, edited by local author Barbara DeMarco-Barrett, launches on July 6.
---
Palm Springs Life
---
Alta
---
---
The review begins at around 31:00.
---
Podcasts
Writers on Writing (podcast) with Palm Springs Noir contributors Eric Beetner, Rob Roberge, and me, moderated by literary maestro Corey Roskin.
Writer Types (podcast) hosted by Eric Beetner, with Barbara DeMarc0-Barrett, Tod Goldberg, and Janet Fitch 
(Begins at 14.32)
Write About Now (podcast) hosted by Jon Small
Jon and Barbara talk about Palm Springs Noir and so much else on the craft of writing.
Drinks with Tony (podcast) hosted by Tony DuShane
Tony and Barbara talk a teensy bit about Palm Springs Noir and laugh and laugh some more.
Events (videos)
Book launch at Skylight Books, (event) Los Angeles with Barbara DeMarco-Barrett, Eric Beetner, Janet Fitch, and T. Jefferson Parker.
Pen on Fire Speaker Series and Salon (event) with Barbara DeMarco-Barrett, Chris J. Bahnsen, Rob Bowman, Eduardo Santiago, and Kelly Shire, hosted by Corey Roskin.
Rancho Mirage Library (event) hosts Palm Springs Noir contributors Barbara DeMarco-Barrett (editor), Tod Goldberg, Janet Fitch, and Michael Craft.
Sisters in Crime Orange County (event), moderated by Barbara DeMarco-Barrett, with Palm Springs Noir contributors Eric Beetner, Eduardo Santiago, and J.D. Horn.
Mysterious Galaxy (event), moderated by Halley Sutton, with contributors Barbara DeMarco-Barrett, Rob Roberge, and Rob Bowman.
About the anthology…
I've loved Palm Springs for a very long time. In 1987, soon after I moved to Southern California, I drove to the desert on weekends. The desert was a new, unexplored region. There were no deserts near San Francisco, where I'd come from, and certainly not near Pennsylvania or Vermont, where I'd spent most of my life.
Almost a decade later, my husband and I honeymooned in Palm Springs. Low on funds, we wanted a place within a couple of hours of our home, but one that would feel like we were far away, in another country, even. We found the Korakia, its archways, fountains, and white stuccoed buildings more Moroccan than American.
Later still, when I became, among other things, a travel writer, I wrote about desert resorts, Old Palm Springs bed and breakfast inns, and antiquing.
The heat in the summer can be fierce, but it burns away your troubles and cares, at least for a little while, and especially when you're floating in the pool to a backdrop of music, it's easy to imagine how it might feel to be carefree.
In 2010, my story, "Crazy for You," was published in Orange County Noir (Akashic) and was later chosen for USA Noir: Best of the Akashic Noir Series. I'd never written noir before writing that story, though I loved film noir and the noir fiction of James M. Cain, Raymond Chandler, and Patricia Highsmith. Noir made me see things differently, made me suspect what lay beneath bright, shiny surfaces. The contrast between light and dark are never more apparent then when I am in the desert. Such a sunny place, what could possibly go wrong?
Seven years ago, I began holding writers retreats in Palm Springs and like any good, i.e. paranoid, traveler and retreat host, I looked up crime in the Coachella Valley and found it wasn't as sunny a place as it looked. Crime was high—higher than 92% of U.S. cities, and of all the desert cities in the Coachella Valley, Palm Springs had—and still has—the most violent crime and property crime. This may be due to Palm Springs being a resort town, and resort towns tend to attract those who prey on tourists who can be oblivious to the opportunists around them. Still, I love it out there. But you don't tend to see its dark underbelly unless you're looking for it or are forced to notice.
I was driven. I had to go deeper. I took a leap and proposed Palm Springs Noir to Akashic. Known for its international noir anthologies, no one does noir better than Akashic, and Johnny Temple, Akashic's publisher, said yes.
I'm happy to report Palm Springs Noir will be published on July 6, 2021, with fourteen stories by a powerhouse group of writers and me. Each story has its own unique flavor and voice as reflected by the diversity and talent of the contributing writers. Although Palm Springs serves as the shining centerpiece to the collection, the richness of the surrounding desert is reflected in stories that travel in all directions—west to Anza, east to Indio, north to Joshua Tree, and south to the Salton Sea.
I hope you enjoy reading these beautiful and complex stories that explore the mystique and majesty of the desert in all its brightness, darkness, and everything in between.
May 6, 2021