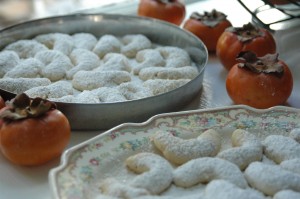 I love making most cookies but these are perhaps the most angelic looking cookies, and those most apt to melt in the mouth.  They have a history, too.  Most countries and cultures offer recipes for half-moon butter cookies using ground nuts and sugar.  The history of these, as I know it, has the cookies in Budapest around 1686 during the Turkish siege of the city.  Bakers working at night heard the Turks digging an underground passage into the city and were able to warn the authorities.  To reward the bakers who saved the city, they were permitted to make a special crescent pastry in the emblem that decorates the Ottoman flag.  Here they are:
1/4 cup sifted confectioners' sugar
2 cups sifted flour (I often will use part whole wheat pastry)
1/2 cup unsalted butter
3 ounces ground pecans or unblanched almonds (both are great)
1. Preheat the oven to 350 degrees.
2. Combine the sugar, flour, and butter by cutting the butter into the dry ingredients–by hand or mixer.
3. Add ground nuts until the dough is smooth and not sticky.
4. Taking a handful of dough at a time, roll it into long 1″-wide cylinders. Slice into 1/2″ long pieces and shape into small crescents. Place on ungreased cookie sheets.
5. Bake 10-15 minutes until they just begin to brown.  Remove to a cooling rack then place on a dish and sprinkles with confectioners' sugar.  I use a sifter to apply the sugar, letting it fall like snow onto the cookie.
Makes about 30.