Of course they love you for all sorts of reasons, and here's one more: Tofu Turkey. It's not Tofurkey.  This entree, which nicely replaces turkey, should be called Tofu Helmet, because that's what it looks like.
Regardless.

What you need:
5 lbs. of tofu, medium in firmness, or 5 white plastic containers that contain 2 cakes each.
You will stuff it with a stuffing of your choice, or the recipe below.  I've adjusted it a little to taste the way I like stuffing—not exactly what you see here—adding oregano and basil.
Homemade poultry seasoning
¼ cup sage
2 T marjoram, thyme, and savory or rosemary
1 T celery seed
1 T black pepper
Herbed Whole Wheat Stuffing
2 T sesame oil
1 C diced onions
1 C mushrooms, diced
1 C diced celery
2 large cloves garlic, minced
1 T homemade poultry seasoning
¼ tsp. sea salt
¼ cup soy sauce or tamari
4 C (or more, depending on wetness/dryness tastes) whole wheat bread, cut into ½ inch cubes (we use squaw bread)
¼ C parsley, chopped
Basting Liquid
¼ – ½ C toasted sesame oil
¼ C tamari
Mushroom gravy (this makes a ton of gravy; you could easily cut it in half)
2 T toasted sesame oil
2 onions, diced
6 C mushrooms, diced
1 C whole wheat pastry flour
6 – 7 C water
¼ C tamari
Garnish
1 large sprig parsley and/or fresh sage, or no garnish, which is usually how ours ends up.
Let the production begin…
Mash tofu well. Line a colander with a single layer of moistened cheesecloth.  Transfer tofu to colander.  Press tofu to flatten and fold edges of cheesecloth over it.  Place a cake tin or other flat object over the surface of the tofu and weigh it down with a heavy object (5 pounds worth) to press liquid from tofu for one hour. I pile a half dozen cans on it. If you don't want the soy milk from the tofu to leak all over the place, place the colander in a bowl or something.
Mix poultry seasoning ingredients.
To prepare stuffing, heat oil and sauté onions, mushrooms, celery and garlic.  Sprinkle poultry seasoning over vegetables. Dissolve salt in tamari and add to pot.  Stir, cover and continue to cook until veggies are done, about five minutes.  Add bread cubes and parsley and mix well.
Hollow out tofu to within one inch of colander.  Pack on stuffing and cover with remaining tofu.  Pat down so surface is flat and firm.
Oil a baking sheet and at least an hour after you began pressing the tofu (or longer; longer wouldn't hurt) flip filled tofu (helmet) onto sheet so that the flat surface is face down.  Remove cheesecloth.
Mix basting liquid and brush tofu with it, then cover tofu with foil.  Bake at 400 degrees F for one hour. Remove foil, turn oven to 350, and baste and return to oven to bake uncovered until the "skin" becomes golden brown, about one hour more.  Baste again halfway through, and maybe even another time or two.
To prepare gravy, heat oil and sauté onions and mushrooms.  Mix flour and water.  Bring to a boil over high heat, stirring often.  Simmer uncovered over medium to low heat, stirring occasionally.
That's it!  It is time-consuming, but so worth it.  I've made it every year for the last 20 years at least. Email me if you run into any snags.
Enjoy!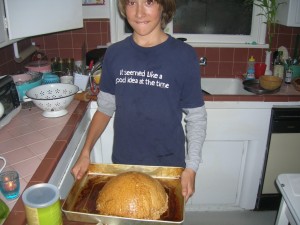 Recipe created by Michael Schmidt, proprietor of the Tofu Shop, Arcata, CA www.tofushop.com and adapted a little by me.